PCBGogo is one of China's largest and most recognisable full-service PCB manufacturers. If you have a PCB design and you want it made at low cost by high quality, they'll make it for you. PCBGogo can also assemble your board, if you want, and even find the components to go on it to save you the trouble. As I mentioned, PCBGogo is a full-service manufacturer.
Suffice it to say, if your project has a PCB, any kind of PCB, of any complexity, type, and material, and with any component, PCBGogo can deliver. Will your PCB be subject to high mechanical and temperature or humidity stresses? No problem. Do you want your PCB to be super-thin or even able to bend and stretch? Again, no problem.
I am a hobbyist maker and educator, so my PCB requirements are modest. I design relatively simple PCBs for my projects and courses and order very small numbers. When I have a new design, I typically order one or two prototype batches to ensure I haven't made a mistake, and when I'm happy with my work, I'll order the "production" version.
As you can see, I barely scratch the surface of what PCBGogo can do for me.
Nevertheless, Mike from PCBGogo contacted me recently and asked if I could place an order on their website, document it, and write a review.
PCBGogo added some credit to my account and promised no strings attached, so I said, "Sure"!
Start from the end: The delivery.
I'll start from the end. Here is the final result of my order; it arrived in Australia about a week after I placed my order. And I simply selected standard delivery, not express. I remember when a PCB delivery would take a month back in the day.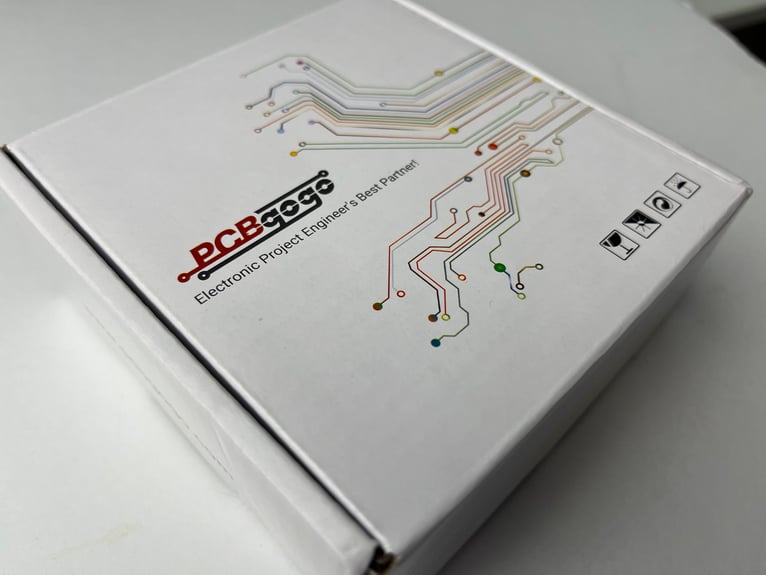 Inside the box, I found my brand-new PCBs in a vacuum protected by a plastic bag. I thought the vacuum was a bit overkill, but then I remembered that moisture can affect PCB substrate performance. Of course, FR4 is very resistant to moisture, so I don't think that a brand-new PCB would be harmed by moisture. However, I believe that the practice of vacuum-sealing brand-new PCBs in the box is an example of PCBGogo's commitment to quality. You get a PCB exactly as it came out of the production line.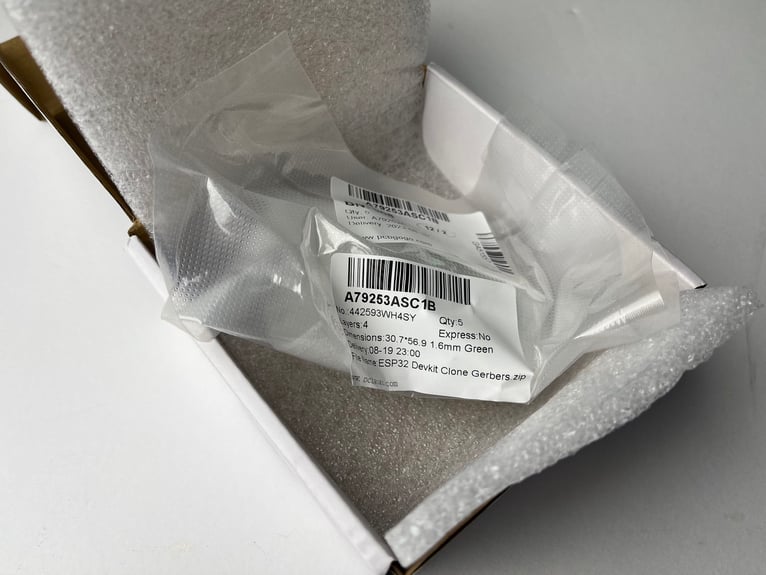 In the bag were my brand-new four-layer PCBs, five of them.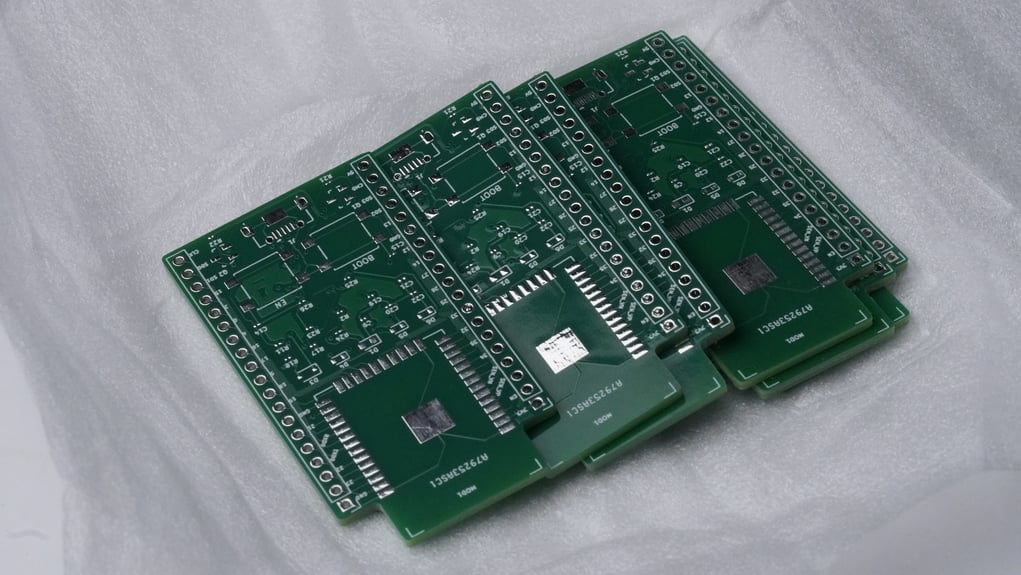 My first impression of the PCBS is their perfect finish. All edges were smooth; nothing "catchy" there. So many PCB manufacturers ship their products with rough edges caused by breaking the PCB out of a panel and don't bother sanding them over.
I also did a solder test with a through-hole component and an SMD and found that the tin used on the pads allows for good adhesion with my solder. All good there, too.
I chose the bottom-of-the-range standard green for the solder mask, which looks OK in real life. I really like blue and red PCBs, but I only order those if there is no price difference with the standard green.
For the silkscreen, I chose, again, the standard low-cost option of white. It came out clear and crisp over the green solder mask. My PCB contains a lot of tiny text, which is close to the bottom limit of what PCB manufacturers can do, but PCBGogo has handled this very well.
(follows close-up of one of the PCBs)
The order process
Now, let's go back to the start. I'll review the ordering process.
A characteristic of Chinese PCB manufacturers is their busy websites and order forms. I see this trend across the world. This is a consequence of those manufacturers having been set up to do literally everything that can be done with and on a PCB. Whether you are new to PCBs or an electronics mass-manufacturing conglomerate, you will still use the same order form with a million options.
Aside: I'd love to see companies like PCBGogo offering the option for a simplified version of their ordering form. That would be a better option for hobbyists and low-volume customers and would improve the ordering experience.
I have ordered a lot of PCBs in my life, so I was not intimidated by the order form.
At this point, I had already used Kicad's Gerber viewer tool to check and double-check my PCB and run all available KiCad checks. PCBGogo also has an excellent PCB viewer, which I used before ordering. You can see it below.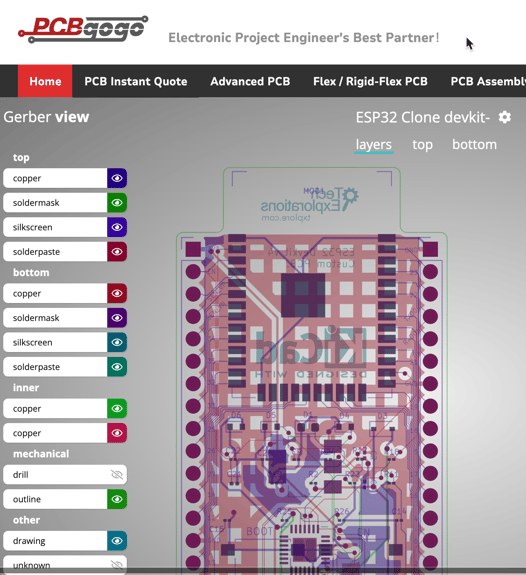 All good to proceed with the order. As I mentioned earlier, PCBGogo's order form is somewhat complicated. However, there is one feature I recommend you use to speed things up. The so-called "Quick Order" feature. You'll find it at the top of the order form.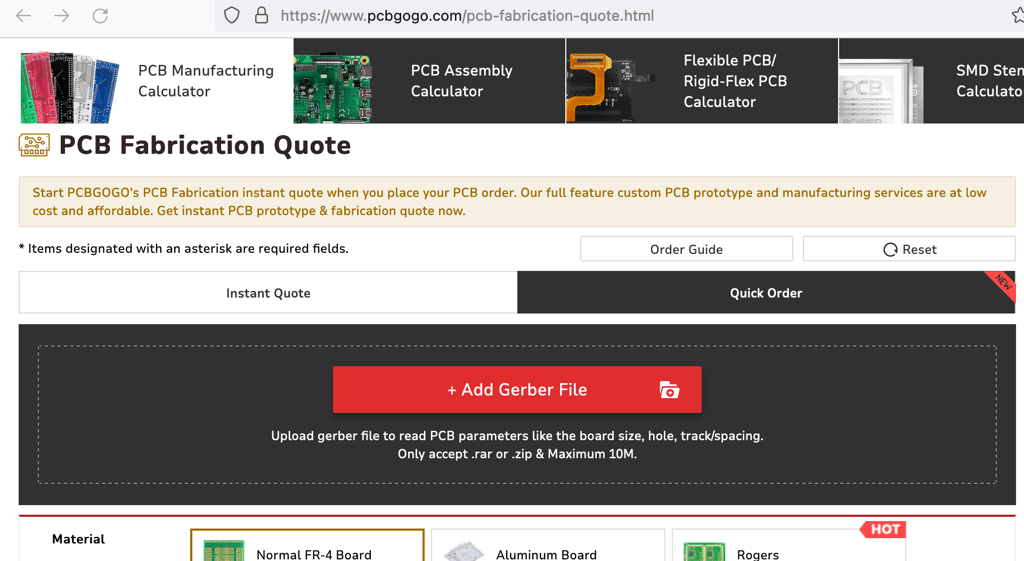 Once you upload your Gerber files ZIP archive to the order form, the form will also ask you for the names of the board layers. My board had four layers, and I filled the form like this: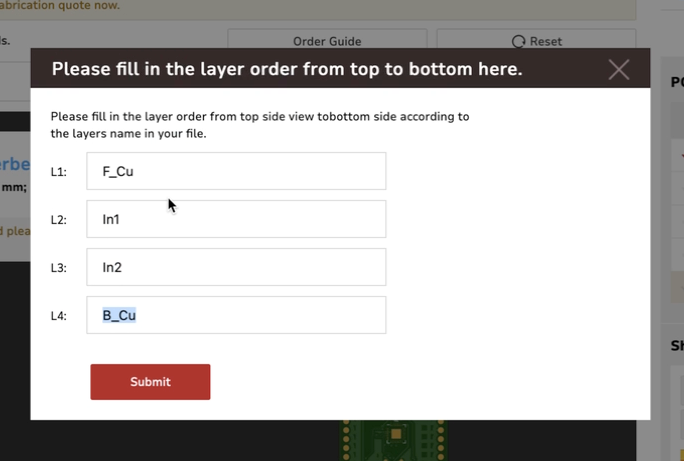 I would expect that the tool would be able to figure out the layer names, although this is not a big issue as I am the designer of the board and know (or should know?) the names of each layer. The names you see in the screenshot above are standard in KiCad.
After submitting the form, I found that the form had already made reasonable and correct selections for the various options. You can see the form with the pre-selected options in the image below.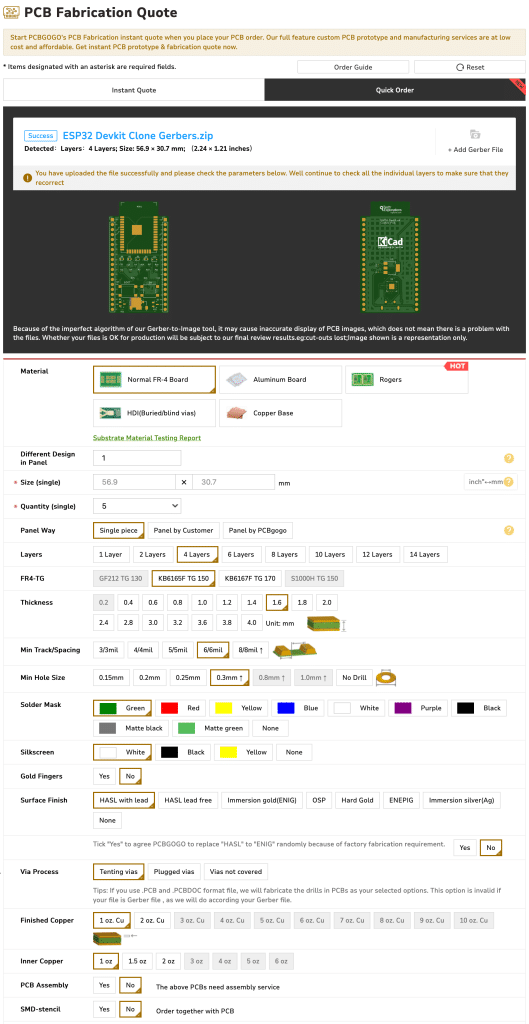 The form is interactive, so you can try out different options and see how they affect the PCB price. I normally go with preselected and standard options for prototypes like this one. I might customise the final PCBs if the price increase is not too steep. For this order, you can see the total PCB and shipping total below:

Simple changes in the options, like going for red solder mask or yellow silkscreen, may have no impact on the price or lead time or may increase them significantly. Play with the options to see what works best for you.
In my experience with orders from PCBGogo, I feel that the manufacturing lead time is the biggest contributor to how long it takes to get your PCBs. Once the PCB has been manufactured, shipping, at least to Australia, seems only to take a couple of days (I chose DHL for mine). For a standard order like mine, the manufacturing lead time is 4-5 days; however, in practice, it seems to be 1-2 days after payment and verification are made.
Conclusion
PCBGogo's product is top-tier PCB manufacturing. While PCBGogo is a full-service manufacturer, I wrote this review as an electronics hobbyist and educator with relatively simple needs. To that end, I found PCBGogo excellent both from a quality and a cost perspective.
While the ordering form can be intimidating to newcomers, it is in line with its competitors and designed to capture literally any PCB order imaginable. Luckily, the Quick Order feature is helpful and makes the form easier to use because of the reasonable presets. I hope a simplified version of this form might be offered one day. This would make PCB ordering much friendlier to most customers.
Have you used PCBGogo for your PCBs?
What was your experience?
Please let me know in the comments below.
PS. Would you like to see more reviews like this? If yes, what services or products should I look at? Let me know in the comments below!