Listen to this episode in your browser
In this episode of Stemiverse, Dr. Peter Dalmaris and Marcus Schappi talk with Jenny Lynch.
Jenny wears many colorful hats, and depending on the day she is a science communicator, a trainer, an educator and a designer of science kits for toy companies. She is the founder of Creative Science, a Sydney-based science communication business.
In this conversation, Jenny shares with us her experiences and lots of actionable advice for science teachers.
This is Stemiverse podcast episode 1.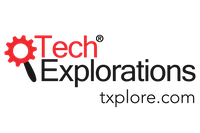 Stemiverse podcast is brought to you by Tech Explorations, a leading provider of educational resources for Makers, STEM students, and teachers. Go to techexplorations.com to see a complete list of our books and courses covering the Arduino, Raspberry Pi, and electronics.
Show Notes