Listen to this episode in your browser
In this episode, Dr. Peter Dalmaris and Marcus Schappi talk with Chris Johnson and Keith Burston.
Both Chris and Keith are retired academics with love for technology and education. They have teamed up to create large constructions using Meccano blocks and Arduino-powered electronics. They take this hobby seriously, as you will hear later on.
In this conversation, Chris and Keith discuss their Meccano crane and explain how it represents a great way to introduce children to engineering and programming. Among other things, we also discuss the Differential Analyser, robotics, artificial intelligence and conversation bots, and the dangers of abstraction in education.
This is Stemiverse Podcast episode 4.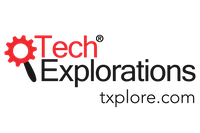 Stemiverse podcast is brought to you by Tech Explorations, a leading provider of educational resources for Makers, STEM students, and teachers. Go to techexplorations.com to see a complete list of our books and courses covering the Arduino, Raspberry Pi, and electronics.
Show Notes