Listen to this episode in your browser
In this episode, Dr. Peter Dalmaris and Marcus Schappi talk with John Burfoot.
John is a STEM robotics teacher and trainer. He is a Science and STEAM specialist in the state of NSW in Australia, for primary schools. He also facilitates and delivers technology workshops through the MacICT Innovations Centre at Macquarie University in Sydney.
John is also a founder of Sci-riffic, a company that delivers specialist science and robotics training for schools. As you will see, John has a passion for science and technology and a vast experience in teaching it. He also has a lot of experience outside of teaching, and in particular in communications, marketing, electronics, avionics, and as a special effects technician.
This is Stemiverse episode 8.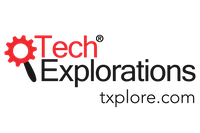 Stemiverse podcast is brought to you by Tech Explorations, a leading provider of educational resources for Makers, STEM students, and teachers. Go to techexplorations.com to see a complete list of our books and courses covering the Arduino, Raspberry Pi, and electronics.
Show Notes