Listen to this episode in your browser
In this episode, Dr. Peter Dalmaris and Marcus talk with Ben Newsome.
Ben Newsome is the founder of Fizzics Education, a company that specializes in delivering interactive science workshops and shows. Through Fizzics Education, Ben reaches around 300,000 children each year, in person or via video conference, in Austalia or around the world.
Ben is a qualified Science Teacher and a former Environmental Consultant, a Children's Summer Camp director, and a CSIRO Education Team member.
Ben is the recipient of the 2013 Northern Districts Education Centre (Sydney) Winston Churchill Fellowship, and on the leadership team for the International Society for Technology in Education Interactive Video Conferencing group. He is an Ambassador for the Association of Science Education Technicians NSW; he is part of the education advisory committee for the GWS Giants AFL team and a co-founder of two non-profit museum collaborative networks: Virtual Excursions Australia & the Pinnacle Education Collaborative.
Wow, what a resume!
This is Stemiverse episode 9.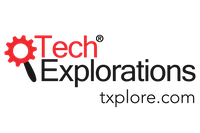 Stemiverse podcast is brought to you by Tech Explorations, a leading provider of educational resources for Makers, STEM students, and teachers. Go to techexplorations.com to see a complete list of our books and courses covering the Arduino, Raspberry Pi, and electronics.
Show Notes