Listen to this episode in your browser
In this episode, Dr. Peter Dalmaris and Marcus Schappi talk with Philip Mallon.
Starting at the age of 9, Philip built a radio crystal set and this became the foundation for an interest in electronics. Phillip's path has given him countless opportunities to learn and to teach during the last forty years.
As a cadet with the NSW Department of Public Works, he studied Science and Technology at the University of Sydney. This was followed by further studies in the UK and a Master's degree in Engineering Science at the University of NSW. Philip applied his new knowledge in biomedical engineering to providing electromedical equipment for the new Westmead Hospital. He worked on the first electronic toll system for the Sydney Harbour Bridge and was the control systems engineer on the Accelerated Loading Facility.
Philip helped provide the first computer systems engineering labs at UTS and was employed there as both an engineering manager and an academic to provide both teaching and practical engineering skills for students.
While at UTS Philip was a director for Autism Australia now Aspect and took an interest in supporting schools for Autistic children.
At the RTA Philip was engaged in Intelligent Transport Systems Projects (ITS) including the flashing lights at all schools zones in NSW, road safety projects including the Lithgow black ice detection project, managed motorways, the new T-Way bus systems for Sydney and structural health and security monitoring projects including monitoring the Sydney Harbour Bridge for security threats.
Now retired, Philip is an active maker and mentor to other makers at the University of the Third Age (u3a) and various Sydney Meetups including ozBerry, Sydney Robotics and Coding and Hack Sounds.
Philip's maker projects involve music, robotics, home automation, environmental monitoring, software engineering and electronics and he is interested in how people with disabilities such as autism and retired seniors can be creative as makers.
Philip exhibited his maker projects at the Sydney mini-maker fair last year. He is an alpha tester for new Seeed Products including reSpeaker and won two of their design competitions using reSpeaker and WioLink.
In the next hour or so, Peter and Marcus explore Philip's amazing engineering and learning experiences, and it is fascinating!
This is Stemiverse Podcast Episode 10.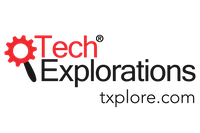 Stemiverse podcast is brought to you by Tech Explorations, a leading provider of educational resources for Makers, STEM students, and teachers. Go to techexplorations.com to see a complete list of our books and courses covering the Arduino, Raspberry Pi, and electronics.
Show Notes