Listen to this episode in your browser
In this episode, Dr. Peter Dalmaris and Marcus Schappi talk with Dr. Karsten Schulz.
Karsten Schulz (Ph.D.) is an engineer, computer scientist, and educator. He is leading the Digital Technologies Institute and is the designer of the B4 Modular Microprocessor for the classroom. Karsten has a background in the ICT industry, specifically in R&D. He has been involved in the Digital Technologies education space since 2008. Some of his previous activities include Young ICT Explorer and Bebras. Most recently, he designed and manufactured the B4 Modular Microprocessor, which students can experiment within the classroom. Karsten is passionate about digital and biological systems, their similarities, and how things work deep inside.
This is Stemiverse Podcast episode 16.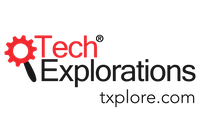 Stemiverse podcast is brought to you by Tech Explorations, a leading provider of educational resources for Makers, STEM students, and teachers. Go to techexplorations.com to see a complete list of our books and courses covering the Arduino, Raspberry Pi, and electronics.
Show Notes