Listen to this episode in your browser
In this episode, Dr. Peter Dalmaris and Marcus Schappi talk with Matt Richards.
Matt is an education and creative director, learning innovation leader and educational technologist. He has 10 years experience creating innovative learning environments, high performing teams and education programmes in schools, social enterprise and government organizations (most recently the new Hinatore Learning Lab at New Zealand's National Museum). Matt employs emerging technologies to empower learners and build global learning communities. He is a Google Certified Innovator and Microsoft Innovative Educator Expert.
This is Stemiverse Podcast episode 20.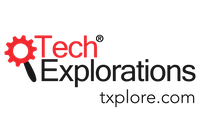 Stemiverse podcast is brought to you by Tech Explorations, a leading provider of educational resources for Makers, STEM students, and teachers. Go to techexplorations.com to see a complete list of our books and courses covering the Arduino, Raspberry Pi, and electronics.
Show notes