Listen to this episode in your browser
In this episode, Dr. Peter Dalmaris and Marcus Schappi talk with Peter Mahony.
Peter is manager of Education and Digital Learning for Sydney's Museum of Applied Arts and Sciences. He leads program direction and delivery for the Museum's school learning experiences including Thinkspace and The Mars Lab, coding and game design. As learning leader for MAAS, a lean startup approach involves staging punk learning 'design experiments' in partnership with young people and school educators or the co-design of bespoke learning experiments.
He initiated Sydney's first Mini-Maker Faire back in 2014, which has since evolved into an annual event. He has a Master of Teaching, Graduate Diploma in Music Therapy, Bachelor of Arts. Peter's background is performing and community arts. Back in the day, as performer and musician, he toured nationally and internationally with Castanet Club, including the Edinburgh Arts Festival Fringe, and nationally with theatre and cabaret shows. Currently, Peter sings tenor in Sydney gospel choir Cafe of the Gate of Salvation.
This is Stemiverse Podcast episode 27.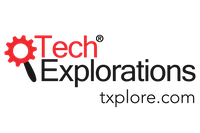 Stemiverse podcast is brought to you by Tech Explorations, a leading provider of educational resources for Makers, STEM students, and teachers. Go to techexplorations.com to see a complete list of our books and courses covering the Arduino, Raspberry Pi, and electronics.
Show Notes