Listen to this episode in your browser
In this episode, Dr. Peter Dalmaris and Marcus Schappi talk with Stephen Hohm.
Steve is the Associate Pastor of LIFE Foursquare Church in Decatur, Illinois, USA.
He also teaches part-time at Decatur Christian School in Forsyth, Illinois. Steve has a Bachelor of Science Degree in Mission Education from North Central University in Minneapolis, Minnesota (1984). He has over 30 years of teaching experience in various settings, including teaching various math and computer-related subjects.
Since 2012, Steve has operated a light-and-sound Christmas display with over 40,000 lights on more than 300 networked circuits syncopated with Christmas music and broadcast on a low-power transmitter for people to enjoy. The show runs every night in December and is a special holiday event for hundreds of families in the community.
The private school where Steve teaches is expanding its curriculum to include STEM subjects, including Micro-controllers, Robotics, and Programming. Steve is creating the curriculum for the "Arduino Masters" class by gleaning from various sources and materials.
Steve is a teacher who loves to learn.
This is Stemiverse Podcast episode 28.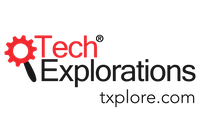 Stemiverse podcast is brought to you by Tech Explorations, a leading provider of educational resources for Makers, STEM students, and teachers. Go to techexplorations.com to see a complete list of our books and courses covering the Arduino, Raspberry Pi, and electronics.
Show Notes