Listen to this episode in your browser
In this episode, Dr. Peter Dalmaris and Marcus Schappi talk with Tim Mendham.
Tim is a Freelance journalist, editor, and executive officer for Australian Skeptics Inc.
In 2000, he was a joint winner of the Australian Business Publishers "Bell" Award for Best Analytical Writing of the Year. In 2006 Fast Thinking was named Best B2B publication in the same awards.
He has written extensively on IT, technology, R&D, business finance, management, and marketing issues. During his career he has edited a number of publications, including Lab News, a technical journal for the R&D community; CFO, the then premier professional magazine for senior finance executives; Fast Thinking, a quarterly publication devoted to innovation issues; and most recently CIO, Australia's leading magazine for senior IT management.
In this interview, Tim talks about skepticism, critical thinking and how we can help our students and children develop life skills that will help them navigate their way through a confusing and often deceiving world.
This is Stemiverse Podcast episode 33.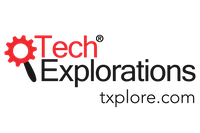 Stemiverse podcast is brought to you by Tech Explorations, a leading provider of educational resources for Makers, STEM students, and teachers. Go to techexplorations.com to see a complete list of our books and courses covering the Arduino, Raspberry Pi, and electronics.
Show Notes