Listen to this episode in your browser
In this episode, Dr. Peter Dalmaris and Marcus Schappi talk with Rich Lehrer.
Rich Lehrer divides his time between being the Innovation Coordinator at Brookwood School in Manchester-By-The-Sea, MA and working with educators, both in the U.S. and internationally, to bring authentic Project Based Learning experiences to their students.
For the past five years, Rich has been breaking ground in the use of 3D printing to connect students to their communities and world through finding and solving real-world problems.
Over the course of his career, Rich has been an educator in the Canadian public school system, in international schools in Venezuela and Brazil, and in the U.S. independent school system. Throughout his 27 years in education, Rich has been committed to the search for "what works" in education. His quest is to use Project Based Learning in the development and implementation of meaningful, engaging, and authentic student learning experiences for students.
This is Stemiverse Podcast episode 39.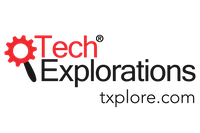 Stemiverse podcast is brought to you by Tech Explorations, a leading provider of educational resources for Makers, STEM students, and teachers. Go to techexplorations.com to see a complete list of our books and courses covering the Arduino, Raspberry Pi, and electronics.
Show Notes