Listen to this episode in your browser
In this episode, Dr. Peter Dalmaris and Marcus Schappi talk with Dr. Sue Keay.
Dr. Sue Keay is recognized as Superstar of STEM by Science & Technology Australia.
Sue is a trained scientist with highly developed business skills. She runs the world's first robotic vision research center.
The Australian Centre for Robotic Vision, headquartered in Brisbane, is an ARC Centre of Excellence with more than 100 researchers distributed across Australian and overseas research institutions.
The Center's mission is to create robots that see and understand their environment so that we can finally reach the tipping point where robots can assume capabilities that have previously only been imagined.
Sue recently developed a successful $1.5m R&D project supported by the Queensland government to explore the vision capabilities of Softbank's social robot, Pepper.
Keen to make sure that women contribute to the development of the technologies of the future, Sue believes that everyone can be a roboticist and that science should be accessible to everyone.
This is Stemiverse Podcast episode 40.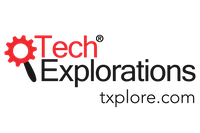 Stemiverse podcast is brought to you by Tech Explorations, a leading provider of educational resources for Makers, STEM students, and teachers. Go to techexplorations.com to see a complete list of our books and courses covering the Arduino, Raspberry Pi, and electronics.
Show Notes