Listen to this episode in your browser
In this episode, Dr. Peter Dalmaris talks with Celinda Corsini.
Celinda is a passionate and innovative educator with a commitment to developing bold initiatives in education to equip students with the skills and competencies they need to thrive in our ever-changing world.
She is a blended learning expert, having conceptualized and developed flipped learning for the language classroom in isolation in 2011 by embracing 21st-century technologies and skills.
She is a Project-Based learning practitioner and had the privilege of receiving 12+ months of intensive mentoring in Project-Based Learning by a PBL expert from the world-renowned PBL School High Tech High, San Diego.
Her passion has inspired and continues to inspire her to design interdisciplinary programs that go well beyond typical syllabus content and create challenging and authentic learning experiences about:
positive psychology
prejudice
social justice
holograms
book creation
illustration
disruptive museum experiences
the purposeful use of social media
digital technologies.
Celinda is currently working as an Inquiry Leader at St Luke's Catholic College, a next-generation learning community in Sydney's Marsden Park that is committed to designing and establishing the 'new normal' for preschool to post-school learning.
She believes that her role as an educator is to set up the conditions for deep, active, engaging, personalized, independent and collaborative, interest and strengths-based learning.
This is Stemiverse Podcast episode 44.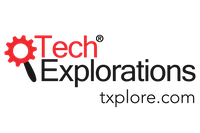 Stemiverse podcast is brought to you by Tech Explorations, a leading provider of educational resources for Makers, STEM students, and teachers. Go to techexplorations.com to see a complete list of our books and courses covering the Arduino, Raspberry Pi, and electronics.
Show Notes