Listen to this episode in your browser
In this episode, Dr. Peter Dalmaris talks with Andra Keay.
Andra is the Managing Director of Silicon Valley Robotics, an industry group supporting innovation and commercialization of robotics technologies.
Andra is also
founder of Robot Launch, a global robotics startup competition,
co-founder of Robot Garden hackerspace,
mentor at hardware accelerators,
and a startup advisor and investor, with a strong interest in commercializing socially positive robotics and artificial intelligence.
This is Stemiverse Podcast episode 49.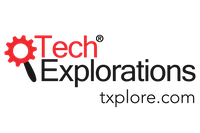 Stemiverse podcast is brought to you by Tech Explorations, a leading provider of educational resources for Makers, STEM students, and teachers. Go to techexplorations.com to see a complete list of our books and courses covering the Arduino, Raspberry Pi, and electronics.
Show Notes
[00:00] Introduction – Introducing Andra Keay
[01:24] Peter and Andra talk about what it's like living at Pleasanton, Silicon Valley, San Francisco
[04:01] Andra talks about her background and the inspiring journey that brought her from Film and Television to Robots and Silicon Valley
[08:38] Working at the ABC (Australian Broadcasting Corporation)
[10:12] Andra's artistic multimedia work – Being a Maker vs. being an Artist
[11:12] How Andra's experience as an artist influenced her view of science by prioritizing what it is to be human
[12:51] The difference between artistic and scientific thought
[15:11] How did Andra become interested in Robotics?
[18:08] Running science clubs in Australia, a before and after-school K program integrating sport, art and technology, robotics competitions, and dealing with issues of gender
[21:07] Breaking stereotypes: Key aspects of Andra's work in motivating (more) girls to study Engineering
[25:00] RoboCup Junior Australia: Australian Open National Competition – FIRST Robotics Competition – VEX Robotics Competition
[25:37] Why is competition important? Stemiverse 0021, interview with Lael Grant
[31:05] Learning through playing
[32:31] From Australia to the US and Silicon Valley
[38:28] Founding the Silicon Valley Robotics
[40:00] Is there a clear direction path for robotics?
[41:24] Robotics and Education: What makes a good educational robot?
[43:32] LEGO Mindstorms, Wonder Workshop Dot & Dash Robots, Orbotix Sphero, Anki Robot – Toy robots vs. Humanoid robots
[47:57] Digital Design: "The best way to learn robotics is to build your own 3D Printer"
[49:44] Women in Robotics network
[53:31] Women understate their qualifications, but confidence is a learned skill – There is a lack of equal mentoring
[57:23] Andra's approach to life-long education and learning
[01:00:13] Education is not easy, but it doesn't have to be book-based
[01:01:45] Rapid Fire Questions
[01:01:57] Andra's advice to Educators just starting out: Ask for a raise!
[01:03:05] How to boost your confidence in teaching STEM, when you lack the appropriate background, or your knowledge of the topic is outdated
[01:05:41] The flipped classroom model and how the role of the teacher is transforming into that of a mentor or facilitator
[01:07:58] Application of Robotics that Andra depends on: Robots in agriculture
[01:11:18] Centers for Field Robotics: in University of Sydney (Australian Centre for Field Robotics), Queensland University of Technology (Robotics and Autonomous Systems) and Australian Centre for Robotic Vision
[01:12:30] Andra's Contact Information: LinkedIn, Twitter: @robotlaunch and @svrobo, Personal Website and Email
Additional Resources: Robohub.org
Andra is one of the co-founders of Robohub. This website is "a great way to keep up with the latest research in robotics – without the hype." It's currently sponsored by the Australian Centre for Robotic Vision at QUT, and houses the "25 women in robotics you need to know about" lists over the last six years.