Listen to this episode in your browser
In this episode, Dr. Peter Dalmaris and Marcus Schappi talk with Nurit Bar-Shai.
Nurit is an interdisciplinary artist who works at the intersection of art, science, and technology.
She is the co-founder of Genspace NYC, a community biotech lab in Brooklyn, NY, ranked by Fast Company among the top 10 most innovative education companies.
As an activist and educator working with biological systems, she conducts experiments through creative, collaborative inquiries and addresses the ethics and the emerging practices of Do-It-Yourself Biology and citizen-science.
As the Arts and Culture Program Director at Genspace, she developed content for educational, cultural and outreach programs creating solutions to bridge the Arts and Biological Science.
Her research and artistic practice look into microbial social networks and communication systems, collective collaboration, emergence, Soft-Genetic Modification, and BioMaterial fabrications.
Nurit developed collaborative STEAM projects including the NYC Biome Map.
She is a co-curator of the BioArt exhibition Cut/Paste/Grow, curator of the Genspace Pop-up Lab at Biofabricate, and has partnered with The American Society for Microbiology (ASM) for their Agar Art competition and the co-organizer of Nodes & Networks NYC.
Nurit is a contributor to the Leonardo ebook: Meta-Life: Biotechnologies, Synthetic Biology, ALife and the Arts.
Her work is featured in the book BioDesign: Nature, Science, Creativity published by The Museum of Modern Art (MoMA). Her artwork was commissioned by Turbulence.org, won a Prix Ars Electronica and included in the collection of the Rose Goldsen Archive of New Media Art at Cornell University.
Nurit held residencies at Tel Aviv University, Microbiology lab of Professor Eshel Ben Jacob, who studied the social life of bacteria and at Epibone, a bioengineering NYC startup that grows bone tissue for skeletal reconstruction.
This is Stemiverse Podcast episode 50.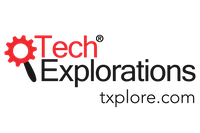 Stemiverse podcast is brought to you by Tech Explorations, a leading provider of educational resources for Makers, STEM students, and teachers. Go to techexplorations.com to see a complete list of our books and courses covering the Arduino, Raspberry Pi, and electronics.
Show Notes