Listen to this episode in your browser
In this episode, Dr. Peter Dalmaris and Marcus Schappi talk with Mark Roper.
Mark Roper is a strategic thinker, entrepreneur, and lecturer who enjoys working at the leading edge, envisioning solutions to real-world problems and taking action to make these solutions a reality.
Mark is a co-founder of Royalti Blockchain Group Pty Ltd, an Australian-based blockchain training and consulting company. In that capacity, we invited Mark to have a discussion with us, in which we explore the Blockchain and the ways by which it promises to change the world.
This is Stemiverse Podcast episode 53.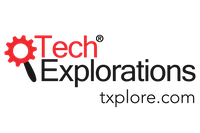 Stemiverse podcast is brought to you by Tech Explorations, a leading provider of educational resources for Makers, STEM students, and teachers. Go to techexplorations.com to see a complete list of our books and courses covering the Arduino, Raspberry Pi, and electronics.
Show Notes