Listen to this episode in your browser
In this episode, Peter talks with Gil Poznanski.
Gil is all about engaging people with technology.
As an international leader in the Maker community, inspiring speaker and teacher, Gil has spent the last eight years building a proven track record in developing STEM and Maker environments and is excited by the challenge of harnessing technology in new and innovative ways.
Gil is always looking for the personal narrative in every project and shares it with as many people as possible.
Gil is currently the Creative Technologies Lead at the Department of Education NSW helping shape STEAM within the public education sector. In the past, he worked with the City of Melbourne running the Makerspace at the Library @ the Dock in Docklands, as well as developed and deployed the Creative Technologies Hub for Hobsons Bay City Council.
In our discussion, we drill into Gil's previous life in the movie industry in Los Angeles and how his learnings and experiences lead to his re-invention as the "Kosher Tony Stark." We talk about his experiments with cutting edge technology, prototyping, how he's using social media and YouTube to expand his reach, and much more.
This is Stemiverse Podcast episode 56.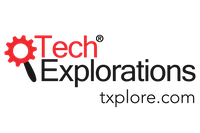 Stemiverse podcast is brought to you by Tech Explorations, a leading provider of educational resources for Makers, STEM students, and teachers. Go to techexplorations.com to see a complete list of our books and courses covering the Arduino, Raspberry Pi, and electronics.
Show Notes