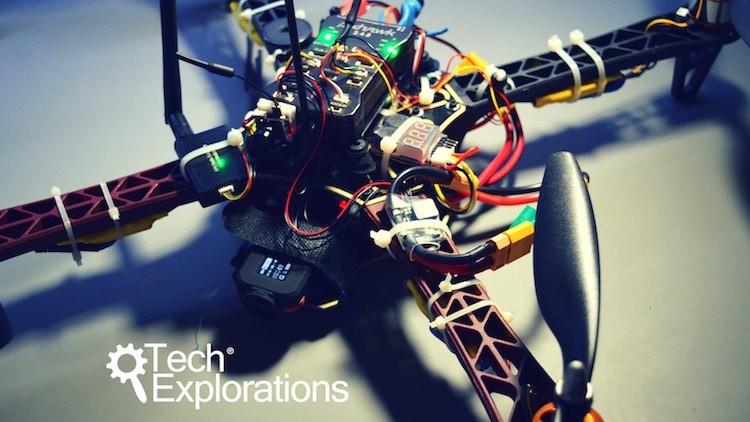 After a month full of drama, fun, and lots of learning, I am pleased to announce our latest course: "Make an Open Source Drone: More Fun."
Making this course was particularly challenging for me. I set out to explore new territory, using hardware and software that I had not used in the past.
One of the most significant challenges was testing the drone in realistic conditions; this involved taking the drone out to the field and flying it. Each outing contained the risk of losing or damaging the drone. With self-imposed deadlines looming, this risk was something that I wanted to minimize. As you probably know, I was unable to eliminate it entirely. An accident caused me a week of delay and the need to spent a lot of time trying to understand what went wrong.
Now that the course is published, I feel that the accident was more of a gift. I learned as much in the days after the crash as I did in the duration of the course project.
Another challenge was the logistics for the outdoors recordings. My workbench recordings are well organized. I have multiple cameras in fixed positions, and I can just start recording and forget about them. But recording the flight of a drone outdoor is a very different operation. Luckily, I have Michelle to be the camerawoman, and Leo and Ari trained to run away from a drone that I pilot. This course would not be possible without them.
I also want to acknowledge:
Aristofani, who provided consultation from the beginning.
The amazing people on the TE Makers Club who helped me understand the causes of the accident. You are amazing!
Now with the course completed, I can take a couple of days to fly the drone, stress-free.
Purchase Make an Open Source Drone: More Fun for US$25 (a 50% discount on its normal price) using coupon code W6Q5WGDB, or click here. This offer expires on June 15, 2018.
By the way, this is my favorite photo of this course: