Alain Pannetrat is the founder of OMZLO, a company that designs, manufactures, and sells open-source hardware with a focus on wired IoT.
Alain also works as a product manager and researcher for the Cloud Security Alliance.
He previously worked as an IT expert for the French data protection authority (CNIL) and as a smartcard security consultant in the banking industry.
He holds a Ph.D. in applied cryptography but discovered a passion for electronics the day he bought his first Arduino UNO.
In my conversation with Alain, we discuss NoCAN, a platform that uses CAN bus to network dozens of Arduino nodes with a single cable. This cable provides power, but also data for all the devices connected to the bus, making multi-device setups easy to work with.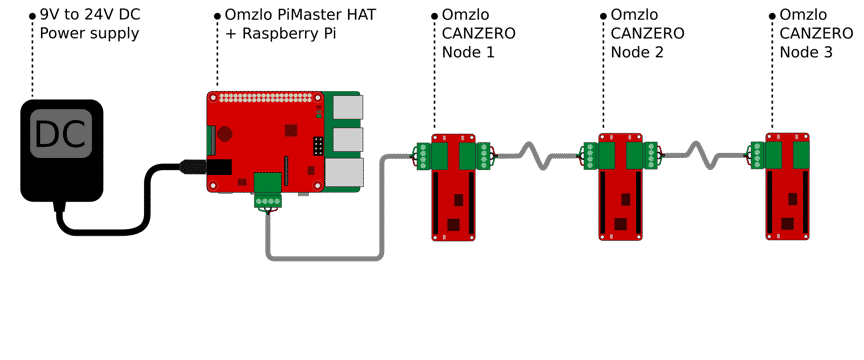 CAN is a technology developed for automotive applications, which makes it very reliable in noisy environments. Also, because of CAN's underpinnings, it is very suitable for applications that require precise timing, and where any node can transmit data at any time.
In Omzlo, you can use the regular Arduino language to program your nodes. The Raspberry Pi handles the communications with the nodes (including programming and reprogramming) transparently
NoCAN and the technology in it are very interesting on its own, and I've spent a big part of the interview discussing it with Alain.
Alain Pannetrat does not have formal training in electronics but became interested in the Arduino around 6-7 years ago. He was attracted by the simplicity of this platform, which made it possible actually to understand every tiny bit about it. This is so true. Think about most other technologies that hobbyists and professionals deal with, and it becomes apparent that it is rare to be able to grasp almost any of them completely. In most cases, understanding is superficial and good enough to be able to get it to do something useful.
Alain was able to understand the Arduino and a lot more (like the Raspberry Pi that provides much of the software layer for NoCAN) through project-driven self-education. It started with sensors, gardening, and little projects like this until he became obsessed with a big problem: neighborhood burglary!
Alain decided to do something about it, and got his mind into overdrive, to create a security system. This was the start of Omzlo.
But apart from the technology, I was very interested in Alain's experience is setting up a business around NoCAN, and running two Kickstarter campaigns. The first one was a success (from a learning point of view) but a failure from a financial point of view. But the second attempt was a resounding success. We spend a lot of time talking about these experiences, which should be very interesting to anyone interested in Kickstarter.
When it comes to electronics and manufacturing, Alain Pannetrat is totally self-taught. In his experience, when it comes to things like design for manufacturing, board layout, and running a Kickstarter campaign, you don't really know anything until you do it. Life just doesn't work out as planned, and being a maker is also about dealing with the unexpected.
Like, how shipping can ruin a totally good idea.
Or, what do you do when you receive a message from a supporter pointing to a bug that potentially affects all of your customers?
Scary. But all part of life.
I am sure you will enjoy this conversation.