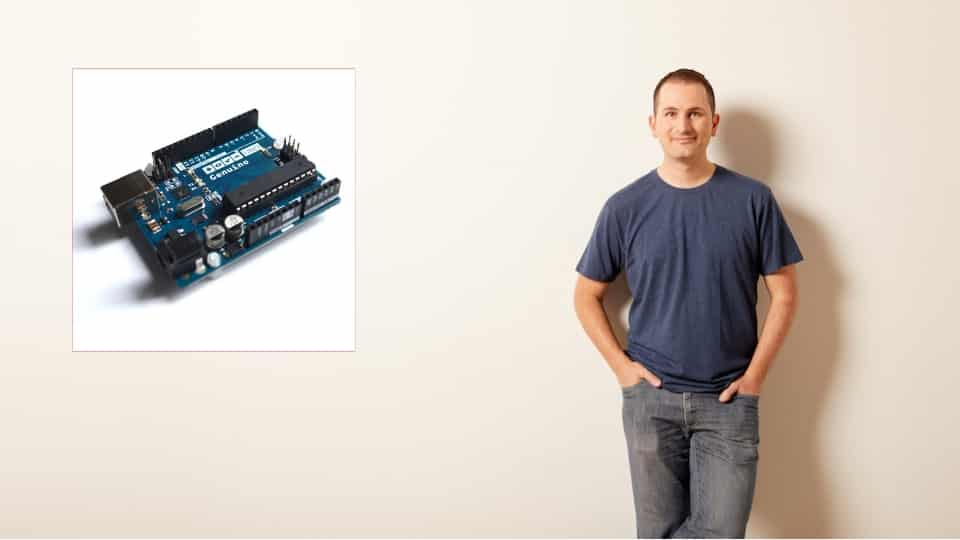 Are you are a maker, STEM student or teacher, and interested in learning how to use the Arduino in your projects?
Are you frustrated by countless disjointed blog posts, tutorials and Youtube videos?
If yes, then you're in luck.
I've put together a comprehensive getting started guide, at the usual quality level of all our Tech Explorations courses, that also gives you access to our Help Desk and our private Tech Explorations Makers Club; at a price that will surprise you (keep reading).
You probably already know that the Arduino is a very important tool for makers, STEM students, educators, and artists. People use the Arduino to make amazing things, to learn programming, electronics, and robotics (to name just a few), and to unleash their creativity.
But learning how to use the Arduino, and learn it well so that you enjoy it, is not a walk in the park. Most people will hit Google and Youtube, watch random videos and read tutorials without coherence, leaving big gaps in knowledge. All this makes for an unnecessarily long and frustrating learning experience.
You might be interested to know that you don't have to go through all this. You don't have to click through endless Youtube videos, Google search results, Instructables projects, and forum discussions to learn how to use the Arduino.
As an instructor, again and again, I hear about smart people losing interest in this amazing education and creativity tool because they simply didn't find the right instructional material, and the support to help them get through the first hurdles. What a shame!
Instead, you can learn from the best, in a structured way, without gaps, and go on to build your creations in no time.
How? I'm glad you asked! At Tech Explorations we publish some of the best Arduino training programs on the web. The first of our programs is the free "Introductory course for the Arduino for complete beginners".
This is not a simple tutorial. It is a learning system that opens the way to some serious Arduino learning and making, even if you have never touched a microcontroller or wrote a program in your life.
Like Richard, who used our system to learn Arduino in his retirement, without even yielding a multimeter in his life.
Or Anika, who wanted to learn how to use the Arduino so she can teach it to her young child.
Or Michael, and agriculture student who wanted to design a custom hydroponics system and build it in record time after learning what he needed using our learning system for a couple of weeks.
Richard, Anika, Michael, and more than 60,000 others from 180 countries around the world used our learning system to become confident makers, and teachers, using the Arduino to create amazing things, and help other people to learn.
Learning is a transformative experience, and at Tech Explorations we work hard to make this experience fun, social, and rewarding.
This experience begins with this free course in which you will learn the basics of the Arduino (such as "why" it is an important tool, "what" is it like to use it, and "what" can you do with it), and our learning system. You will experience how the Tech Explorations learning environment works, with its video, and text and other supporting materials, our community of makers and mentors.
You will also be able to get help from our mentors, who are there to help you anytime you need help.
Students that are going through our Arduino program describe their experiences in their reviews. Here are some examples (unedited, in their original, raw format – we removed the student surnames to preserve their privacy):
Tom:
The instructor did a great job explaining the components, the sketches, ways to expand the individual projects and did it in a clear concise context. I think he might have even purposely made a couple of common snafu's that we are sure to do as makers. Even if it was just a typo or not choosing the correct port. Thanks much Dr. Dalmaris
Jonathan:
Amazing course! Has all I could ask for and provides detailed explanations that have so far answered all my questions. Already bought the more advanced course and I can't wait to start it.
Dhruv:
Wow!!! A Perfect! explanation of the basic things.
Aradhya:
Amazing experience. Learning basics of Arduino were interesting.
Jacob:
I was a absolute beginner going into the Arduino Step by Step: Getting Started course. I loved it and I learned so much. I would recommend this course to anyone who is just getting started in there Arduino adventures! Dr. Peter Dalmaris is such a good instructor and very clear in his examples. He makes learning fun and exciting.
Mike:
Very good!!! learned a lot although i couldn't buy all these sensors i played and searched with the simple ones!!! Thank you Dr Dalmaris
Nathan:
Quite a good course for anyone just starting Electronics. Very intuitive.
Paul:
The teacher knows how to present his knowledge to students very well. Good use of graphics and repetition. Very well taught.
Coleen:
Very informative, easy to understand information.
These are examples of students that were transformed and are well on their way to enjoy using the Arduino in their projects, and teaching it to other people.
You can get on this journey right now by enrolling to our free Arduino introductory course on the Tech Explorations site. Experience learning using our video and text lectures, interact with members of the Tech Explorations Makers Club, let our mentors help you when you are stuck using our Help Desk.
Experience the simplicity of having easy access to diagrams, sketches, and demos for everything you will need to become a confident Arduino maker. Experience your skills increasing day by day, making your first gadgets, and your first "aha" moments that will have you wanting more.
If you prefer endless searching on Google and Youtube, asking questions but receiving no answers, blurry videos and poorly written guides, then you don't need to take any action.
But if you value your time and you are serious about learning, click on the button below and enroll in the free introductory course to the Arduino, from Tech Exploration.
It is totally free because we want you, and as many people as possible, to experience our learning system without any barriers.
Enroll now and get access to all course materials right away.
Get access to the Tech Explorations Makers Club on Facebook (instructions on how to do this are inside the course).
And, gain access to our Help Desk and our mentors.
My team and I are looking forward to learning with you!