The Tech Explorations STEM Education Virtual Summit is a unique event where Educators from around the world come together to share their best insights on the technologies, methodologies, and philosophies they use to teach and inspire the next generation of amazing humans.
We started work on the Summit in April, and by Thursday last week, we hit a significant milestone: all presentation recordings are now complete!
Over almost 8 weeks between early April and now, our team and 28 Speakers recorded 23 presentations and over 30 hours of video content.
The Summit theme is "education in a changing world".Of course, our world is not static. It is constantly changing…
Education, at all its levels, is continually being impacted by social and economic trends, like Globalisation, as well as by developments in educational technologies, cognitive sciences and a globally aging population.
But this ongoing change is no longer "business as usual".
The Pandemic of 2020 has caused shock waves that are accelerating the transformation of the "traditional" education system into something new.
We can't model our response to the pandemic in the context of Education by using lessons from the past. Nothing like this has ever happened before.
Our Education public institutions and private organizations, and all of us involved (teachers, students, parents, policymakers, and anyone connected to Education) have never experienced something like this before.
So what do we do? We create the future.
In this Summit, I invited our Speakers to talk about their response to the pandemic.
These are educators who are creating the future of Education.
They are inspired by their sense of duty to their students that motivates them to be the best teachers they can be so that their students can thrive in an exciting, though unpredictable, world.
They build on their knowledge and experience, drawing from many decades of research, development and application in the classroom (from kindergarten to University amphitheatres, and the Internet).
They saw the Pandemic of 2020 as an opportunity to implement change in Education.
And that's what they did.
In this Summit, each and every one of them explain how they responded to the crisis. What kind of changes did they implement, why, and what did they learn from the experience.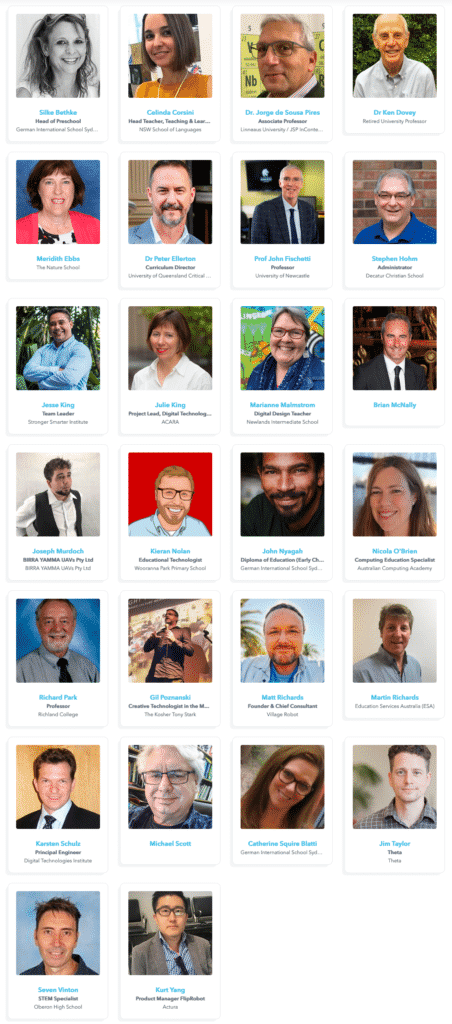 The STEM Education Summit 202 Speakers (see details).
The new education system is evolving to be far more responsive and diverse that the old system.The new system…
depends on communication technologies;
it allows teachers and students the freedom to prioritize what is it that they want to learn, and how;
it wreaks havoc in old beliefs around assessment and authority;
it places emphasis on creativity and the pursuit of knowledge creation (as opposed to standardization and knowledge consumption).
Some of our Speakers call this "Education 3.0".
Our Speakers have explored many exciting topics in which they reveal how they responded to the current crisis, and how they are getting ready for Education 3.0 and help their students thrive.
Digital Technologies,
Co-constructing learning journeys with our children, STEM at school and home,
maker-spaces,
artificial intelligence,
robotics,
virtual and augmented reality,
smart cities that support life-long learning,
leadership in Education,
STEM in the great outdoors,
transforming our world (starting with the classroom),
computing,
learning from indigenous traditions and knowledge,
These are just some examples of topics that our speakers have grappled with in this Summit.
Here is the complete list of the talks that you can enjoy:
| Speaker | Talk Title |
| --- | --- |
| Julie King | Digital Technologies in focus: responding to change |
| Marianne Malmstrom & Jim Taylor | Mixiply: free mixed-reality maker-space |
| Prof John Fischetti | Co-Constructing the Learning Journey with our Children |
| Stephen Hohm | Everybody Gets to Play! – STEM at School |
| Gil Poznanski | The 10 Rules of the Maker-space |
| Dr Peter Ellerton | Critical thinking in STEM |
| Kieran Nolan | What is Education 3.0 and what it means for the future of education |
| Martin Richards | Making connections to Artificial Intelligence in our daily lives |
| Silke Bethke, John Nyagah & Catherine Squire Blatti | Supporting families of young children through STEM education |
| Richard Park | How I transferred my classroom to Online and Return |
| Joseph Murdoch | Smart Cities |
| Dr Ken Dovey | Leadership in Education: A Collective Achievement |
| Meridith Ebbs | Learning outside with STEAM |
| Brian McNally | Delivering Physical Education (with STEM content) during 'Lock-down' |
| Michael Scott | Teaching and Learning Innovation: The 'Transform Your World' Innovation Challenge |
| Karsten Schulz | Computing without Coding |
| Jesse King | Indigenous Knowledges in STEM |
| Nicola O'Brien | Remote learning now and in the future |
| Celinda Corsini | Am I Teaching Robots or Humans? |
| Kurt Yang | My journey from developing robotics products to teaching robotics online during COVID-19 |
| Matt Richards | VR and creative technologies for distance learning, fun, and well-being |
| Seven Vinton | Strategies for extending student logical reasoning |
| Dr. Jorge de Sousa Pires | Addressing the level of the Learner |
STEM Education Summit 2020 – list of Speakers and Talks
More than half of the Summit presentations are ready to watch right now. You can go ahead and purchase a full-access ticket (which will also give you access to the Summit community/discussion space.
Or, you can register for a free ticket and watch all presentations on the weekend of June 27 and 28.
In the form of this Summit, our Speakers combined their efforts to create this invaluable resource.
My hope, as the organizer and host of this Summit, is that in its content, you will find knowledge and inspiration to not only help you through these unprecedented times but to propel you to the next level of our development and a fantastic teacher.