Listen to this episode in your browser
In this episode, Dr. Peter Dalmaris and Marcus Schappi talk with Julija McDowell.
Julija and her husband Nicholas are the founders of TinkerTank, a creativity and collaboration space in beautiful Manly, just out of Sydney, Australia. At TinkerTank, Julija, and her mentor collaborators offer STEAM education programs and activities, aimed to inspire the next generation of scientists and engineers.
In this conversation, Julija discuses STEM, makerspaces, schooling and homeschooling, and how to motivate children so that they learn because they want to, not because they have to.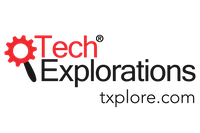 Stemiverse podcast is brought to you by Tech Explorations, a leading provider of educational resources for Makers, STEM students, and teachers. Go to techexplorations.com to see a complete list of our books and courses covering the Arduino, Raspberry Pi, and electronics.
Show Notes
[00:00] Introduction – Introducing Julija McDowell
[01:16] Peter and Marcus meet Julija at TinkerTank and discuss the facility's purpose
[04:12] Julija talks about her background at George Lucas's Industrial Light & Magic
[08:01] Children at TinkerTank learn how to make YouTube videos and animation
[09:33] How to teach children without them thinking that they are in school: Create a fun environment ("try not to be like a school") – Project-Based Learning
[12:15] Hiring mentors: by word of mouth
[14:04] Age group targets: Main group ages 7-12 – Looking for ways to motivate ages 12-16 to rediscover science
[15:02] Advice for parents and teachers for motivating older children: surprise them and inspire with new and exciting things
[18:35] If money wasn't an issue what would Julija do with her company
[21:20] Makerspaces in Australia vs. the US: differences in focus
[23:43] Changes in learning ways and expectations of students and parents over the last 10-20 years
[24:58] Homeschooling benefits and alternatives for working parents
[28:22] TinkerTank's schedule and approach, similarities, and differences with Montessori
[31:29] Examples of Student-Led Learning and Length of Program
[34:29] Art Integration: creativity in everything
[36:16] Choice of equipment for TinkerTank
[40:13] Discussion about littleBits
[42:10] Learning through making: Troubleshooting skills development
[43:25] Rapid Fire Questions
[43:50] Who has been the Most Influential Person for Julija: Sir Ken Robinson
[44:19] Favorite Teaching Book: John Holt's Books (regarding the choice of unschooling)
[45:29] What App can you not live without? Homeschooling App AT3N, which is now integrated into TinkerTank apps, and Social Media
[47:08] Advice to Educators just starting out: Believe in yourself and your kids and go with the flow, break outside of the box and keep learning
[48:00] Professional Development Conferences and Workshops: Raising Happy Kids Conference (Sydney) and SXSW Conferences
[50:32] Advice to Educators with non-STEM related backgrounds: Face your Fears
[51:31] Parting Thoughts, Dos and Dont's: Learn the Value of STEM and STEAM
[52:54] Open Days at TinkerTank