Listen to this episode in your browser
In this episode, Dr. Peter Dalmaris and Marcus Schappi talk with Keith Heggart.
Keith is an Academic at the University of Technology, Sydney, and the University of Western Sydney.
He is an Organiser at the NSW Independent Education Union, expecting a Ph.D. in Citizen Education and Critical Pedagogy expected at the end of 2017, and many more qualifications in Education and Engineering.
In this conversation, Keith discusses some of the STEM-related topics that excite him, including community-lead makerspaces, the magic of the Raspberry Pi, programming, online resources for teachers, and practical approaches to teaching science.
This is Stemiverse Podcast episode 5.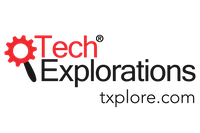 Stemiverse podcast is brought to you by Tech Explorations, a leading provider of educational resources for Makers, STEM students, and teachers. Go to techexplorations.com to see a complete list of our books and courses covering the Arduino, Raspberry Pi, and electronics.
Show Notes