Listen to this episode in your browser
In this episode, Dr. Peter Dalmaris and Marcus Schappi talk with Ariane Skapetis.
Ariane is currently a Learning Technologist in Higher-Ed with qualifications and expertise in e-learning, blended learning, and K-12 Education. She has held numerous roles throughout her lengthy career in Education. Teacher, Computer Coordinator, ICT Consultant in Sydney region schools and now as a Learning Technologist at UTS. Ariane has seen it all: from the introduction of the Internet to schools in the early 1990s to modern game-based learning, "flipping" the classroom and using mobile phones to enhance educational outcomes.
This is Stemiverse episode 11.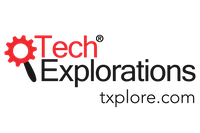 Stemiverse podcast is brought to you by Tech Explorations, a leading provider of educational resources for Makers, STEM students, and teachers. Go to techexplorations.com to see a complete list of our books and courses covering the Arduino, Raspberry Pi, and electronics.
Show notes
[00:00] Introduction – Introducing Ariane Skapetis
[02:13] Ariane talks about her background in education
[07:39] How the new gadgets transformed the students' learning experience
[09:17] The transition from using technology to making it: Explain Everything app, Microsoft Kodu visual programming language
[13:44] The initiative and effects of implementing open-ended creative technology in the classroom
[16:45] The transition of teacher to mentor
[17:30] Current application of the project
[18:25] The transition of the project to more schools
[19:39] Present-day people's choice of devices for the classroom
[20:56] Ariane's choice of technology
[21:36] The unification of apps
[22:22] Educational outcomes have changed
[23:31] Creativity as an important outcome in today's schools
[23:48] Other outcomes: More choices of what to create
[24:21] Choice and recognition of student diversity as a result of introducing open-ended technology in the classroom
[25:30] Where should I start as a new STEM teacher: Scratch or Kodu
[26:19] What is Scratch
[27:58] What would your ideal classroom look like if you had an infinite budget?
[30:36] The teacher's role inside the ideal classroom: The facilitator
[31:13] Advice for new facilitators: Think about your teaching style
[33:04] The open society as a marketplace of ideas
[33:50] Ariane's work in UTS: Introducing new tools, moving away from powerpoint, incorporating google drive and kahoot!
[36:02] Flipping the classroom
[36:39] How do you get students to do the pre-work
[38:51] What do you do when students don't have a smartphone
[40:49] Collaborative pods
[45:24] Rapid Fire Questions
[45:40] Who has been the most influential in shaping the way you teach
[46:31] Who do you look up to now
[48:42] Professional Development Conferences and Workshops: TeachMeet Website or Twitter: #TeachMeet
[50:23] Teachers are lifelong learners
[50:58] Advice to Educators just starting out
[52:52] Ariane's Contact Information: Twitter: @ariadne09, Podcast: edtechlunch