Listen to this episode in your browser
In this episode, Dr. Peter Dalmaris and Marcus Schappi talk with Professor John Fischetti.
Professor Fischetti is Head of School of Education School at the University of Newcastle.
Over the past 30 years John has worked to revamp classroom practices, school structures and board policies around the new era we are in, that he calls "the collaborative, global innovation age".
In the past, John has served as a Dean in the US, a Professor, and teacher.
Working inside school reform, revamping teacher education and rethinking leadership preparation over the past thirty years, Professor John Fischetti brings a divergent set of experiences to The University of Newcastle.
In this hour-long, gem-packed discussion, John talks about
equity vs equality in education,
flipped schools,
refugee education in Miami,
personalized education,
intellectual inspiration,
student engagement,
how to equip our children with the intellectual tools they need to reach the moon and beyond,
how the role of teachers has already changed,
and much much more.
This is Stemiverse episode 14.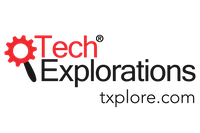 Stemiverse podcast is brought to you by Tech Explorations, a leading provider of educational resources for Makers, STEM students, and teachers. Go to techexplorations.com to see a complete list of our books and courses covering the Arduino, Raspberry Pi, and electronics.
Show notes