Listen to this episode in your browser
In this episode, Dr. Peter Dalmaris and Marcus Schappi talk with Brian McNally.
Brian is a veteran teacher with 23 years of experience.
Brian has moved from Outdoor Education to Primary Physical Education, Secondary Physical Education, IT, Maths and Science. Specializing in Gifted and Talented Education, Brian is now teaching stage 3 students, which is years 5 and 6, on the NSW Central Coast in Australia.
He regularly presents seminars and training events to teachers in topics such as:
Thinking while Moving in Mathematics
Using IT in PE
Mathematics
These are some of the topics that we will discuss in this podcast.
Brian's passion is in encouraging students to make links between concepts taught in STEM subjects. By making learning relevant through Pop Culture, his students become actively engaged in their lessons through familiarity with themes common to their generation.
This is Stemiverse Podcast episode 19.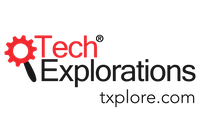 Stemiverse podcast is brought to you by Tech Explorations, a leading provider of educational resources for Makers, STEM students, and teachers. Go to techexplorations.com to see a complete list of our books and courses covering the Arduino, Raspberry Pi, and electronics.
Show Notes