Listen to this episode in your browser (31:30)
In this episode, Dr. Peter Dalmaris and Marcus Schappi talk with Saskia and Alastair.
This is the second part of the Barker College Redbacks team interview. If you haven't listened to the first part, in which we interview Lael Grant, the team coordinator, please do so now before listening to this second part. Everything will make more sense then!
In this episode, we hear from Saskia and Alastair.
Saskia is a current member of the team and one of the Team Captains. She is a Year-11 student.
Alastair is a team alumnus and now an Engineering student.
Saskia and Alastair talk about life and learning as a competitive robotics team member.
This is Stemiverse Podcast episode 22.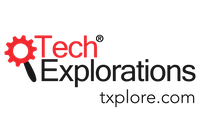 Stemiverse podcast is brought to you by Tech Explorations, a leading provider of educational resources for Makers, STEM students, and teachers. Go to techexplorations.com to see a complete list of our books and courses covering the Arduino, Raspberry Pi, and electronics.
Show Notes