Listen to this episode in your browser
In this episode, Dr. Peter Dalmaris and Marcus Schappi talk with Viv White.
Viv is the founder of an innovative new design for learning and schools.
Viv taught primary and secondary education for 13 years, worked in tertiary research for five years as a research fellow at Macquarie University and Victoria University, and served as an adjunct professor at the University of Western Sydney.
She is the co-founder, managing director and company secretary of Big Picture Education Australia. The work that Viv does in Big Picture Education is the main topic of our discussion in this episode.
Viv has taken the lead in establishing Big Picture Learning International (BPLI), a venture that will influence governments and educational institutions and launch more schools for disadvantaged and disengaged youth.
This is Stemiverse podcast episode 24.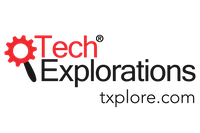 Stemiverse podcast is brought to you by Tech Explorations, a leading provider of educational resources for Makers, STEM students, and teachers. Go to techexplorations.com to see a complete list of our books and courses covering the Arduino, Raspberry Pi, and electronics.
Show Notes