Listen to this episode in your browser
In this episode, Dr. Peter Dalmaris and Marcus Schappi talk with Simone Maciel.
Simone is a creative individual who revels in educating people. Having graduated from university with a Bachelor in Arts and a Diploma of Education (secondary), Simone spent the next seven years teaching Drama, Music, English, History, Religious Education and Photographic and Digital Media.
Her passion for technology imbued itself in her teaching pedagogy and Simone co-led a successful and creative one-to-one laptop program in her time as an educator. Her areas of expertise include movie making, photography, public speaking, and music integration. Simone has spent the past seventeen years involved in musical theatre, and she draws on this experience in her teaching practice.
In 2012, Simone resigned from her full-time classroom teaching role to pursue a career in teacher training and currently runs Professional Development workshops for MAC1 on a plethora of areas, of which the most popular has become STEM with a specific focus on coding and robotics using Apple Technologies. Her focus is to redefine purpose and authenticity in teaching instruction and at the core of her philosophy is a centered approach to ethics in coding.
This is Stemiverse Podcast episode 26.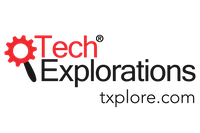 Stemiverse podcast is brought to you by Tech Explorations, a leading provider of educational resources for Makers, STEM students, and teachers. Go to techexplorations.com to see a complete list of our books and courses covering the Arduino, Raspberry Pi, and electronics.
Show Notes