Listen to this episode in your browser
In this episode, Dr. Peter Dalmaris and Marcus Schappi talk with Nigel Cartmell.
Nigel is the founder of AKL Mini-makers. Started in 2015, AKL Mini-Makers delivers parent-led technology workshops for Primary and Intermediate school-age children. Nigel and other AKL Mini-Makers' members teach design thinking, and maker culture skills, for prototyping – electronics, coding, digital design and 3d printing.
The weekly workshops run weekly workshops started in February 2016, are financially supported by Parents, and partnered with Auckland Council and AUT (the Auckland University of Technology). Their aim is to grow with the children (currently 11-years old) until they're old enough to become junior tutors – a wider tutor base enabling an increase in class numbers.
In this interview, Nigel talks about his journey to start the AKL Mini-Makers' workshops as a way to help his daughter to learn and build cool stuff, and to complement what she was learning at school.
This is Stemiverse Podcast episode 28.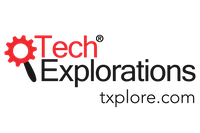 Stemiverse podcast is brought to you by Tech Explorations, a leading provider of educational resources for Makers, STEM students, and teachers. Go to techexplorations.com to see a complete list of our books and courses covering the Arduino, Raspberry Pi, and electronics.
Show Notes