Listen to this episode in your browser
In this episode, Dr. Peter Dalmaris and Marcus Schappi talk with Joy Suliman.
Joy is the Learning Space Coordinator at Library Services for the City of Canada Bay, one of Sydney's most multicultural suburbs.
Joy brings together her diverse experience in learning, technology, workshop facilitation, research, professional development training, regional outreach, and community engagement in her role with City of Canada Bay Libraries.
She leads a multi-disciplinary team that works alongside the community at The Learning Space, The Connection, Rhodes, providing access to online resources and a wide range of programs focusing on digital and emerging technology such as 3D printing, augmented reality, robots, and electronic making.
In her previous roles as the digital media facilitator for Save the Children NSW, as Senior Research Fellow at Queensland University of Technology, and before that Thinkspace Manager at the Powerhouse Museum, Joy has researched, developed and implemented innovative STEAM workshop programs and resources for community, school groups, teachers , and cultural organisation professionals.
She has also worked at the University of Western Sydney, Arab Council Australia, ABC local radio, and the University of Wollongong.
This is Stemiverse Podcast episode 31.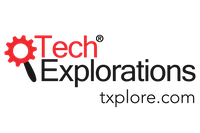 Stemiverse podcast is brought to you by Tech Explorations, a leading provider of educational resources for Makers, STEM students, and teachers. Go to techexplorations.com to see a complete list of our books and courses covering the Arduino, Raspberry Pi, and electronics.
Show Notes