Listen to this episode in your browser
In this episode, Dr. Peter Dalmaris and Marcus Schappi talk with Shanti Korporaal and Skeeve Stevens.
Skeeve and Shanti are serial entrepreneurs, with multiple technology businesses and startups already in the market and many more planned. Their mission is to build businesses whose purposes is directly, or indirectly linked to personal empowerment. They exist to enable people to build a business, provide a service that they would not otherwise be able to and to stay in business during the disruptopocolypse.
Skeeve and Shanti believe that there is no time like the present to utilize all the global resources to empower dreams and independence and that the next generation of disruptors will come from the hungry developing world.
Skeeve is the dreamer, visionary, productizer and disruptor. Shanti is the doer, level-headed one that makes every happen. In their capacity as futurists and advisors to organizations and governments, they share their view of the future, what that means for education and how we can prepare our children for it (and why we, the parents and teachers are more in need for such preparation).
This is Stemiverse Podcast episode 32.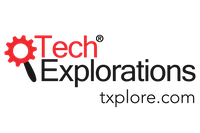 Stemiverse podcast is brought to you by Tech Explorations, a leading provider of educational resources for Makers, STEM students, and teachers. Go to techexplorations.com to see a complete list of our books and courses covering the Arduino, Raspberry Pi, and electronics.
Show Notes