Listen to this episode in your browser
In this episode, Dr. Peter Dalmaris and Marcus Schappi talk with Dr. Jane Hunter.
Jane is a former primary and high school teacher. She is currently leading a series of postdoctoral research studies in Australia to build teacher capacity in STEM and STEAM in schools. Her work reinforces the importance of pedagogy and ongoing teacher professional learning through action learning in school-university partnerships.
The pedagogical framework featured in her recent book: "Technology integration and High Possibility Classrooms: Building from TPACK" is leading education change and new thinking in schools. Jane also teaches pre-service teachers in the Master of Teaching Program (Secondary) in the School of Education at the University of Technology, Sydney.
This is Stemiverse Podcast episode 34.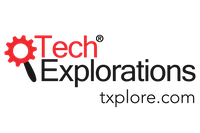 Stemiverse podcast is brought to you by Tech Explorations, a leading provider of educational resources for Makers, STEM students, and teachers. Go to techexplorations.com to see a complete list of our books and courses covering the Arduino, Raspberry Pi, and electronics.
Show Notes