Listen to this episode in your browser (1:11:18)
In this episode, Dr. Peter Dalmaris and Marcus Schappi talk with Dr. Jason Zagami.
Dr. Jason Zagami is an academic in the School of Education and Professional Studies of Griffith University on the Gold Coast in Queensland, Australia where he teaches and conducts research in educational technologies and Computer Science Education (K12).
In his work in innovations in educational technologies, Jason focuses on the identification of emerging trends, educational gaming (including VR, AR, and VWs), student co-creation of secondary worlds, and neural /cognitive activity measurement.
In the field of Computer Science Education (K12) Jason focuses on curriculum implementation approaches involving higher order thinking skill development, concept development through visualisation and manipulation (including visual programming), concept development through use of manipulables (such as Robotics, Drones and IOT), and challenges for female participation in Computer Science education.
Jason has many years' of experience in K-12 computer education and teacher education. He has been the recipient of the Outstanding National Achievement by a Teacher and the Queensland Computer Educator of the Year awards. He is an Apple Distinguished Educator, a Google Certified Innovator, a past president of the Australian Council for Computers in Education (ACCE), a past president of the Queensland Society for Information Technology in Education (QSITE), an editor of the Australian Educational Computing (AEC) journal, and president of the Australian College of Educators (Gold Coast region). Way to go Jason!
This is Stemiverse Podcast episode 35.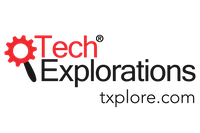 Stemiverse podcast is brought to you by Tech Explorations, a leading provider of educational resources for Makers, STEM students, and teachers. Go to techexplorations.com to see a complete list of our books and courses covering the Arduino, Raspberry Pi, and electronics.
Show Notes