Listen to this episode in your browser
In this episode, Dr. Peter Dalmaris and Marcus Schappi talk with Dr. Jennifer Yu.
Jennifer is a Principal Scientist and Director of the Disabilities Research Program at SRI International. She specializes in the development, implementation, and evaluation of programs and services that improve learning and quality of life for people with autism, learning disabilities, and mental/behavioral health issues.
She has led experimental and quasi-experimental studies funded by the U.S. Department of Education and the National Science Foundation to evaluate school-related interventions aimed at improving engagement, motivation, and academic performance among elementary to postsecondary students with disabilities.
Dr. Yu received her master's degree in education and a doctorate in public health from Harvard University.
In our discussion, Jennifer talks about her research and covers a multitude of topics. These include the importance of managing the transition of children with autism into adulthood, the predisposition of people with autism to engage with science and technology, relevant technologies and interventions, including SNUDLE, common misconceptions around educational outcomes in people with autism, and so much more.
This is Stemiverse Podcast episode 36.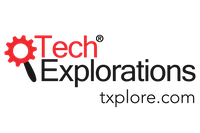 Stemiverse podcast is brought to you by Tech Explorations, a leading provider of educational resources for Makers, STEM students, and teachers. Go to techexplorations.com to see a complete list of our books and courses covering the Arduino, Raspberry Pi, and electronics.
Show Notes
[00:00] Introduction – Introducing Dr Jennifer Yu
[04:29] Jennifer talks about her background as a teacher, her research in Education and Public Health with a focus on children with disabilities, and her work in SRI International
[06:24] When did Jennifer begin her research?
[08:43] There is a lack of enough support for teachers that can help them understand different disabilities and how to accommodate them
[11:50] The transitional period – transition age – into adulthood for children with disabilities
[15:49] How does Jennifer envision support for teachers being provided?
[18:53] The end-goal and how to integrate the many people involved during school years into the plan to achieve that end-goal
[22:53] The parents at the core of the team
[31:04] SNUDLE provides support for the teachers as well
[32:02] An example of how the SNUDLE app helps teachers provide feedback
[33:31] Will SNUDLE be publicly available?
[34:27] Biggest misconceptions about learning disabilities that Jennifer has noticed in her work with teachers – The importance of non-cognitive factors
[40:59] Is it part of a teacher's professional development to also seek training in dealing with children with learning difficulties?
[44:41] Are children in the autistic spectrum "gifted" in STEM subjects?
[49:16] What percentage of people that identify themselves with autism would pursue non-STEM studies?
[51:40] Is the lack of gender diversity in STEM partly due to autism being more prevalent in boys?
[53:22] Advice for parents and teachers of autistic children on how to help their children enjoy learning
[57:12] Rapid Fire Questions
[57:22] What app Jennifer cannot live without: Kindle app
[59:00] Advice for Educators just starting out
[01:00:29] How to deal with the naughty child at the back of the class
[01:02:45] Software that Jennifer uses for Data Analysis: SAS/STAT, SPSS
[01:04:12] Book Recommendations by Jennifer:
[01:07:35] Parting Thoughts
[01:08:54] Jennifer's Contact Information: Email: 

[email protected]