Listen to this episode in your browser
In this episode, Dr. Peter Dalmaris and Marcus Schappi talk with Seven Vinton.
Seven is Co-inventor of the ARD2-INNOV8 shield for Arduino. He has dedicated the past six years to providing support for students and teachers with Digital technologies and creating solutions which make coding easier for students. He presents annually at the DATTA Vic and DLTV conferences, co-authored the Digital Technologies textbook for Nelson Cengage, and is currently designing work units for the new Geelong Technical School.
In this episode, Seven, who is a victim of mechanical typewriters from the previous century, talks STEM curricula and their attributes, increasing literacy performance, using data analysis tools to help with planning in the school environment, best-use cases for end-of-year reports, educating parents, writing a STEM book for a large publisher, being a Youtuber, and much more!
This is Stemiverse Podcast episode 38.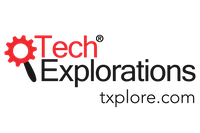 Stemiverse podcast is brought to you by Tech Explorations, a leading provider of educational resources for Makers, STEM students, and teachers. Go to techexplorations.com to see a complete list of our books and courses covering the Arduino, Raspberry Pi, and electronics.
Show Notes