Listen to this episode in your browser
In this episode, Dr. Peter Dalmaris talks with Dr. Rebecca Johnson.
Dr. Johnson is Director of the Australian Museum Research Institute, a Wildlife Forensic Scientist, a Conservation Geneticist and co-chief investigator of the Koala Genome Consortium.
Rebecca is the first female science director in the Museum's 190-year history and is an Adjunct Professor at the University of Sydney. She and her team were instrumental in establishing the Museum as a global leader in the field of wildlife forensics and applied conservation genomics including developing strong translational research with direct links to industry.
She is a member of the Australian Academy of Forensic Sciences and represents the Museum on more than 14 government and industry committees.
Of Rebecca's many achievements, one that stands out is being one of the inaugural 30 "SuperStars of STEM." This is a group of some of Australia's most dynamic scientists and technologists whose mission is to create role models for young women and girls and working towards equal representation in the media of men and women in STEM.
This is Stemiverse Podcast episode 41.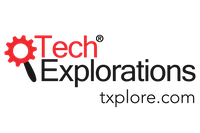 Stemiverse podcast is brought to you by Tech Explorations, a leading provider of educational resources for Makers, STEM students, and teachers. Go to techexplorations.com to see a complete list of our books and courses covering the Arduino, Raspberry Pi, and electronics.
Show Notes