Listen to this episode in your browser
In this episode, Dr. Peter Dalmaris and Marcus Schappi talk with Jesse King.
Jesse is a Waanyi descendant who has a passion for education and the opportunities it provides for everyone involved.
He has close ties to the Mt Isa and Central Queensland regions through his father and mother's family. Jesse attended school in Townsville and completed his teacher training at Charles Darwin University.
He is keenly interested in the opportunities 21st-century pedagogy offers for learners of all abilities and backgrounds.
Jesse has experience in classroom teaching, school leadership, learning management system implementation (School and Sector), school strategic planning and has successfully gained funding and delivered a variety of programs at the school level.
This is Stemiverse Podcast episode 46.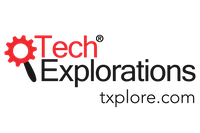 Stemiverse podcast is brought to you by Tech Explorations, a leading provider of educational resources for Makers, STEM students, and teachers. Go to techexplorations.com to see a complete list of our books and courses covering the Arduino, Raspberry Pi, and electronics.
Show Notes