Listen to this episode in your browser
In this episode, Peter and Marcus talk with Kurt Yang.
Kurt is the product manager of an Australian EduTech start-up company, Actura. Actura provides leading STEAM learning solutions spanning from in-class to out-of-class environments.
Kurt grew up in China and settled down in Sydney after completing his Commerce degree at Macquarie University. He then commenced his banking career in CBA shortly after graduation while completing his Master of Applied Finance at Macquarie University.
During the 8.5 years Kurt worked in CBA, he gradually developed an enormous passion for technology innovation and product management. That led him to join Cuscal and help implement Android Pay and Apple Pay digital wallet solutions for 30-40 domestic banks and credit unions across Australia.
After the successful launch of these two products, Kurt moved onto an exciting new challenge, which is the development of Actura's FlipRobot. Kurt is determined to make a difference in the STEAM education industry by creating accessible and affordable educational robotic learning solutions with a solid curriculum and teaching implementation support.
This is Stemiverse Podcast episode 48.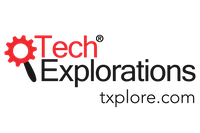 Stemiverse podcast is brought to you by Tech Explorations, a leading provider of educational resources for Makers, STEM students, and teachers. Go to techexplorations.com to see a complete list of our books and courses covering the Arduino, Raspberry Pi, and electronics.
Show Notes