Listen to this episode in your browser
In this episode, Dr. Peter Dalmaris talks with Christie Evans.
Christie has a deep interest in STEM initiated by a science degree at Flinders University, then further developed by a strong classroom practice from her first days of teaching.
Within the classroom, Christie engages students through problem-based learning with real-world applications using a cross-curricular inquiry model.
Christie's enthusiasm for both the Sciences and Technologies has enabled her to have a significant impact not only at her site but across several schools. Teachers recognize, and are enlightened by, her progressive pedagogies and connection to authentic context and are thereby motivated to adopt this way of teaching.
This is Stemiverse Podcast episode 51.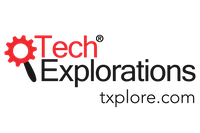 Stemiverse podcast is brought to you by Tech Explorations, a leading provider of educational resources for Makers, STEM students, and teachers. Go to techexplorations.com to see a complete list of our books and courses covering the Arduino, Raspberry Pi, and electronics.
Show Notes