Listen to this episode in your browser
In this episode, Dr. Peter Dalmaris talks with Dr. Jillian Kenny.
A creator at heart, Dr. Jillian Kenny is constantly on the lookout for opportunities to challenge traditional ways of thinking. As a result of her work she was named one of the first Superstars of STEM by Science and Technology Australia in 2017 and as one of Australia's Top 100 Most Influential Women by the Australian Financial Review and Westpac in 2014.
As a Founding Director of Machinam, Jillian has led the company to develop innovative digital high school mathematics resources that are engaging and relevant to real life, answering that age-old question, "Why do I have to learn this?"
In 2012, she co-founded the non-profit organization Power of Engineering, which runs nationwide events for female and regional Year 9 and 10 students to inspire them about the engineering profession; showcasing its diversity, creativity, and most importantly that it is an avenue to making a real difference in the world.
This is Stemiverse Podcast episode 52.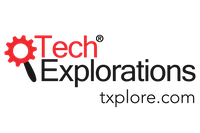 Stemiverse podcast is brought to you by Tech Explorations, a leading provider of educational resources for Makers, STEM students, and teachers. Go to techexplorations.com to see a complete list of our books and courses covering the Arduino, Raspberry Pi, and electronics.
Show Notes
[00:00] Introduction – Introducing Dr. Jillian Kenny
[01:59] Greetings
[02:28] Jillian talks about her background in Civil Engineering – She describes how she discovered that she wanted to be an engineer, and the disillusionment that brought her to Education
[06:12] Exposure to the world of engineering and the problem-solving aspect of it acted as a catalyst in directing Jillian's career from the Law to Engineering
[09:07] Jillian elaborates upon the challenging issues she observed when she began work as an engineer and refers to her mentors' influence in her decision to do a Ph.D.
[11:49] Jillian's reasons for rejecting an Academic career
[12:38] Peter discusses MacGyver and Star Trek; the TV series that had an impact on his decision to become an engineer and also helped him separate the Academia from the real-life type of engineering
[14:21] Ways in which Jillian currently solves real-world problems: Power of Engineering (a non-profit organization), co-founded with Felicity Furey (aka Felicity Briody)
[17:40] How do we keep the interest in engineering alive within the students' minds?
[18:59] Machinam: Real World Maths – IRL For Schools: Students complete online quests that explore the application of mathematics through real-world scenarios
[23:18] Machinam's Guiding Principles: Real Life Context – Growth Mindset Approach – Authentic Learning
[23:46] Examples of Authentic Learning according to Machinam
[25:25] Real Life Context resources
[26:17] Link between Machinam and Power of Engineering
[27:17] What Growth Mindset is and how it is implemented in the Machinam curricula – An answer to the question: Are we born with talent in math?
[28:30] YouCubed by Dr. Jo Boaler – Growth Mindset
[29:16] Peak: Secrets from the New Science of Expertise, by K. Anders Ericsson – Deliberate Practice
[30:51] How can a teacher help a student move past the limiting view that they are not naturally gifted?
[32:37] The importance of the environment in building a growth mindset
[36:13] Star Trek Discovery and female role models in leadership and engineering positions
[37:24] What being a "creator at heart" means to Jillian
[40:52] Jillian's Ph.D. topic: Exploring elements for innovation in the Australian water sector
[41:57] The importance of taking a long-term view
[43:54] Is education a fertile ground for innovative approaches?
[45:52] Rapid Fire Questions
[46:01] Who has been the most influential in the way that Jillian teaches and thinks? Kay Scarpetta, a fictional character and protagonist in Patricia Cornwell's crime novels
[50:48] Jillian's advice to educators just starting out
[52:56] Jillian's Contact Information: Twitter: @JillyKenny, Instagram: jilly.kenny, Email:

[email protected]