Listen to this episode in your browser
In this episode, Peter and Marcus talk with Doonie aka Geoffrey Benton.
Geoffrey was born in Frankston in 1948 when they still shoed horses in the stables near the railway station. Geoffrey attended Tech school and became an apprentice as a plastic die-maker/toolmaker.
He worked as a maintenance fitter and in later life he became a policeman, then a truck driver and has also owned several small businesses.
He retired in 2012 and went on to discover a range of activities that keep him interested and, sometimes, frustrated! These include filmmaking, short story writing, making model boats and generally beavering away in his shed for days at a time. He recently discovered the joys and frustrations of learning how to use a laser cutter and has since filled the house with tiny wooden boxes.
Then, he was bitten by the electronics bug in the form of Arduino and is now trying to combine all of his skills to one end.
He has had a lifetime love affair with motorcycles including building, restoring, racing, and touring. In the shed at the moment is a home-built 920cc V twin solo and a 1500cc Kawasaki V twin with a sidecar and trailer.
Geoffrey lives in country Victoria with his wife and two cats.
This is Stemiverse Podcast episode 54.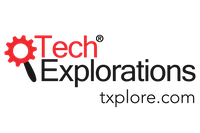 Stemiverse podcast is brought to you by Tech Explorations, a leading provider of educational resources for Makers, STEM students, and teachers. Go to techexplorations.com to see a complete list of our books and courses covering the Arduino, Raspberry Pi, and electronics.
Show Notes
*Australian idiom referring to the wilderness (Wikipedia link)