Listen to this episode in your browser
In this episode, Dr. Peter Dalmaris catches up with Kieran Nolan.
This is Kieran's second appearance on Stemiverse.
Kieran is an Educational Technologist based in Melbourne, Australia.
He's an International Speaker, CoderDojo Mentor, Blockchain Expert, and Business Development Executive.
Kieran is driven by innovation, disruption, and lifelong learning. These drivers empower him to play his part in revolutionizing the EduTech space as we know it.
Kieran is an Educational Technologist at Wooranna Park Primary School, where his strategic leadership has led the school to launching a 24/7 International Virtual Learning Environment in Minecraft, Victoria's first CoderDojo, Australia's first Immersive Education Club, the world's youngest Cisco class, and the very first School on the Blockchain.
Kieran is also a Co-Founder & Business Development Executive of RocketShoes.io which is an educational platform designed for a learner-centric approach and providing powerful tools to manage content in a decentralized way. Learners will be able to produce and keep track of their own learning materials, including assignments, notes, and digital assets. Organizations can manage large amounts of content in a way that is not possible with today's systems, allowing for radically new functionality, and deep integration with the Blockchain.
This is Kieran's second appearance on Stemiverse. The first time around, back in episode 25 we discussed the school in the Cloud and how the blockchain influences education, as well as cryptocurrencies and its social and educational implications. In this second interview, Kieran talks about RocketShoes, the Interplanetary File System, Nem.Education and we catch up with some exciting technology news.
For the first time for Stemiverse, this interview comes in audio and video! If you want to watch me and Kieran conducting the interview, and also see the various web resources that we were looking at during the recording, please go to the episode page.
This is Stemiverse Podcast episode 58.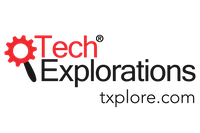 Stemiverse podcast is brought to you by Tech Explorations, a leading provider of educational resources for Makers, STEM students, and teachers. Go to techexplorations.com to see a complete list of our books and courses covering the Arduino, Raspberry Pi, and electronics.
Show Notes