Summary
In this episode, Dr. Peter Dalmaris talks with Kieran Nolan.
In this Podcast, Kieran Nolan returns to the Tech Explorations podcast to discuss his latest projects, especially the School of Bitcoin and RocketShoes.
Both projects utilise the Blockchain as the fundamental infrastructure on which Kieran and his collaborators are building the next-generation tools for teachers and students.
He also updates us on the latest from the Woorana Park Public School Bitcoin lab and the sad ending of his ground-breaking learning space. Kieran builds on his experience from the Woorana Park learning space to create the next-generation online and Blockchain-powered learning space.
In addition to this podcast, you may want to check out Kieran's previous episodes:
Watch
This is Tech Explorations Podcast episode 15.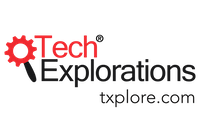 The Tech Explorations Podcast is a podcast produced by Tech Explorations, a leading provider of educational resources for Makers, STEM students, and teachers. Go to techexplorations.com to see a complete list of our books and courses covering the Arduino, Raspberry Pi, and electronics.